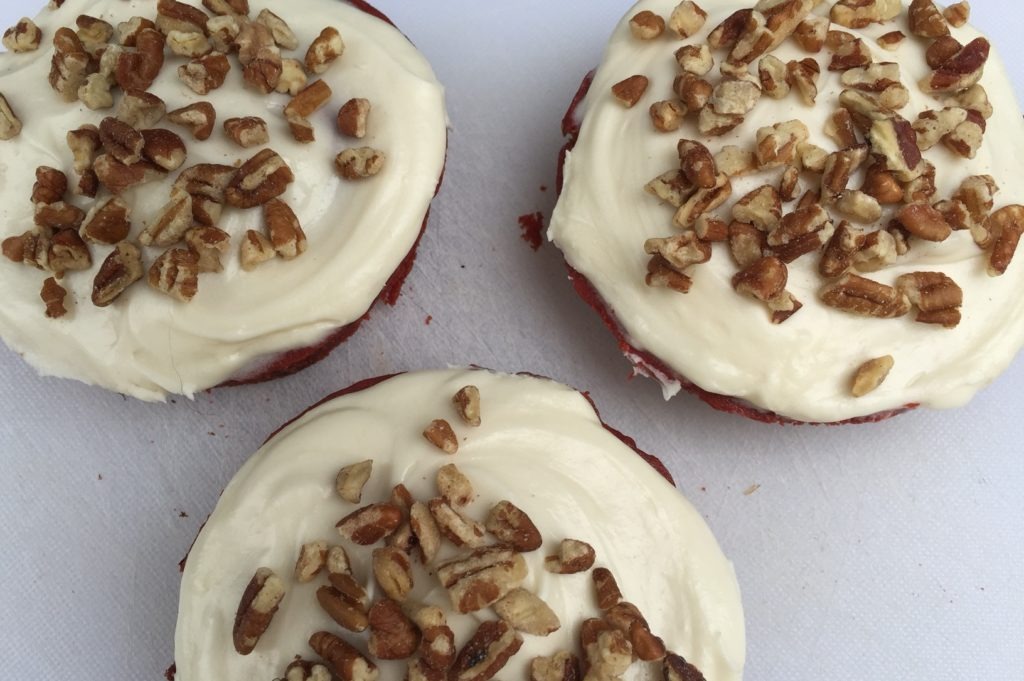 It was Saturday morning and it was "Cheat-Day-BAKE-Day"–Sooo, I decided with Valentine's day just around the corner, it was also Red-Velvet-day!  Didn't want cake exactly, and hubby and I love muffins and muffin toppers.  Hubby loves more than just cookies ya know. In fact, when we first starting going out together in high school,  (yes, are high-school sweethearts) he said besides cookies, he loved blueberry muffins, but his Mom didn't make them any longer. His Mom used to use the packaged, just add eggs, milk and oil mix and had heard that the so called blueberries, that weren't really blueberries were unhealthy.  I wanted to impress my new boyfriend, so I made him some blueberry muffins and brought them to school.  However, we didn't have any fresh blueberries and the frozen berries had been left out too long before mixing them into my muffin batter, so, I am mocked to this day about my blue-blueberry-muffins.  I plan on posting my blueberry muffin recipe soon to prove that I can make normal looking blueberry muffins.  These red velvet white chocolate cream cheese pecan mini cakes (or sweet muffin toppers) definitely won't be blue!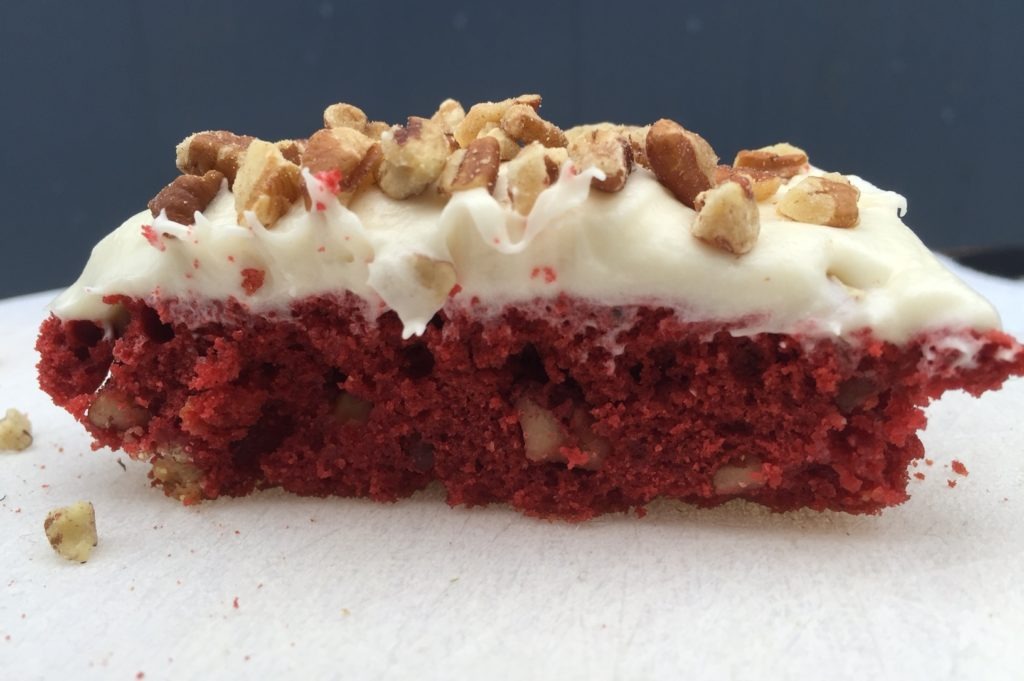 The rich red velvet flavor goes perfect with chopped pecans, white chocolate chips topped with white chocolate cream cheese frosting!

I only had 2 teaspoons of red food coloring left, normally I add more, but they were red enough.  If you want your red velvet to be more red, add up to 2 Tablespoons.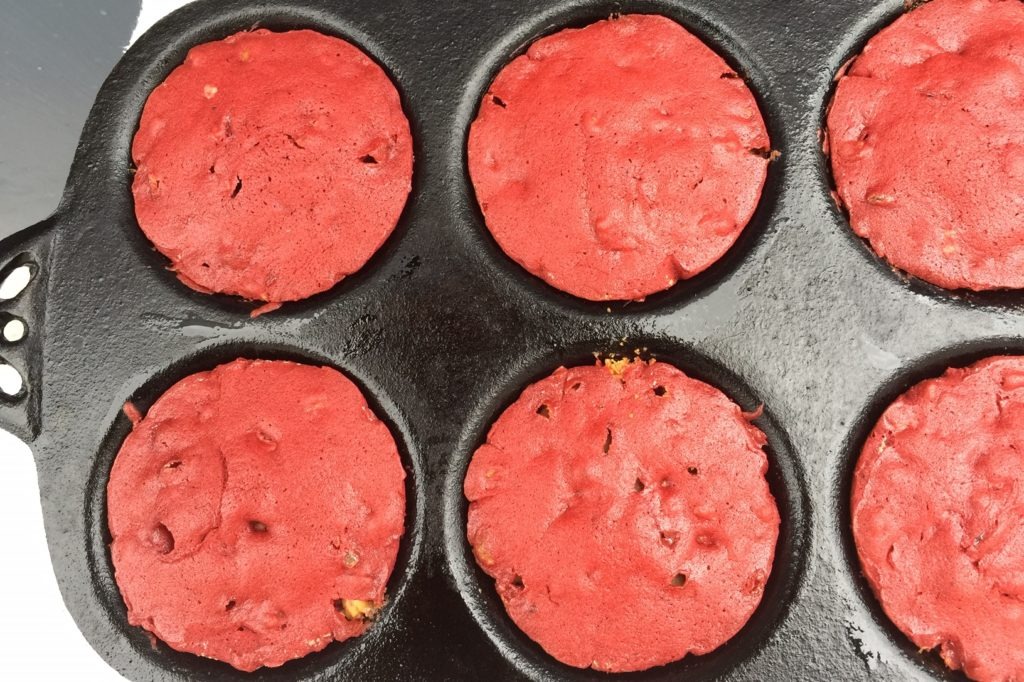 I prefer to use cast iron bakeware for baking muffins and muffin tops.  I like the crisp buttery edge it produces better than the non stick or silicon pans.  (Grease cast iron well with butter before adding batter.) After years of using them, they will become more and more non-stick.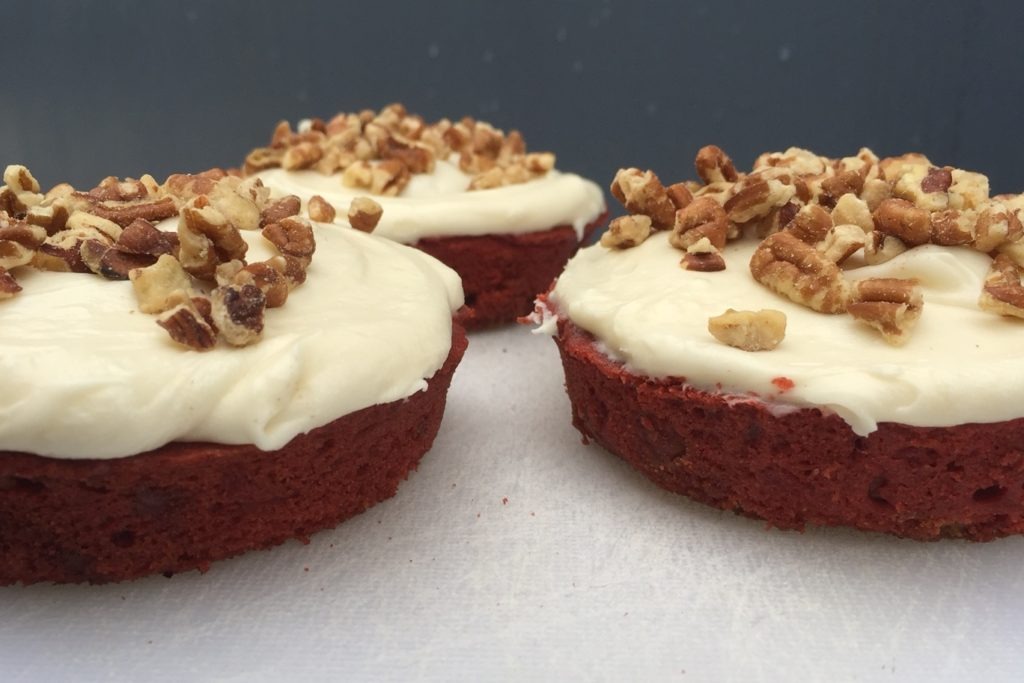 They are very rich, and I could only eat one. Hubby on the other hand ate two.  We shared some with the neighbors.  Got the thumbs up from them as well on these. Enjoy! You could probably make these as full size cupcakes if you don't have a muffin top baking pan, however, I haven't tested it.
Red Velvet ♡Love♡ Mini Cakes
Red velvet white chocolate cream cheese pecan miniature cakes (extra sweet muffin toppers) Makes a special treat for Valentines Day!
Ingredients
½ cup butter (softened)
1 cup sugar
2 eggs
1 teaspoon pure vanilla extract
2 tablespoons red food coloring
½ cup milk
1 teaspoon apple cider vinegar
1 tablespoon unsweetened cocoa powder
2 cups flour
2 teaspoons baking powder
½ teaspoon baking soda
¼ teaspoon salt
1 -12oz package white chocolate chips (divided)
1 cup pecans, divided


White Chocolate Cream Cheese Frosting

1 cup white chocolate chips (melted)
1 -8 ounce package cream cheese
¼ cup butter (softened)
1 teaspoon pure vanilla extract
1½ cups powdered sugar
Instructions
Preheat oven to 375°. Set out cream cheese for frosting to soften while preparing mini cakes. Cream together butter and sugar: then add in the eggs, vanilla, food coloring, milk and vinegar and blend well. In a large bowl combine flour, baking powder, baking soda, cocoa powder and salt. Then add the batter to the dry ingredients; do not under or over mix the batter. Mix in 1 cup white chocolate chips and ½ cup chopped pecans into batter. Fill muffin top baking pans halfway full. Bake for 18-20 minutes. Let mini cakes cool in pan for 15 minutes. Use a butter knife to run around the edges of each mini cake before removing. Cool on wire rack.


White Chocolate Cream Cheese Frosting
Melt the remaining white chocolate chips about 1 cup in microwave for a few minutes, add cream cheese, butter and vanilla. Blend with hand mixer until smooth. Gradually add powdered sugar. Whip until fluffy. Use spatula or butter knife to frost mini cakes and sprinkle tops with chopped pecans.
Notes
Makes 12 mini cakes. You could stack these to make double layer mini cakes.