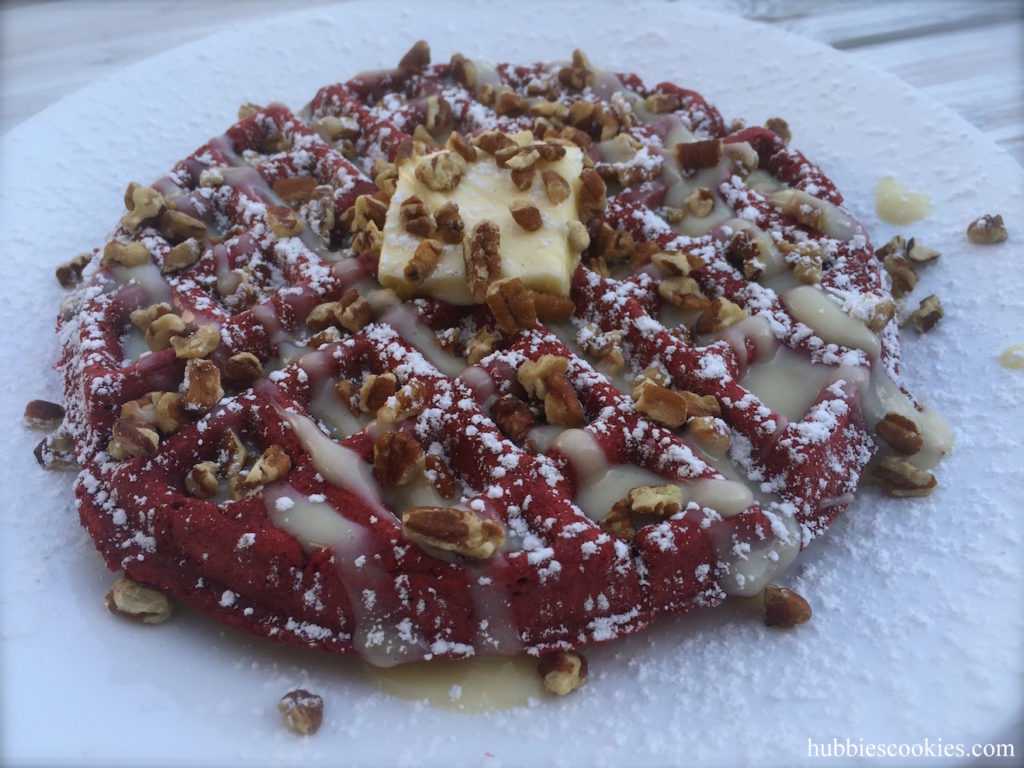 Happy Valentines Day! The day of love is on Saturday and that means it's another "cheat-day-bake-day!" Hubby is taking BoBo for a walk at the beach this morning and I thought I surprise him for Valentine's Day with Red Velvet Waffles for brunch. Waffles are one of our favorite meals anytime of the day.  Hubby absolutely l-o-v-e-s chocolate and what better way to have waffles with a little chocolate in them.  Pecans are one of our favorite nuts and they go perfectly with red velvet waffles.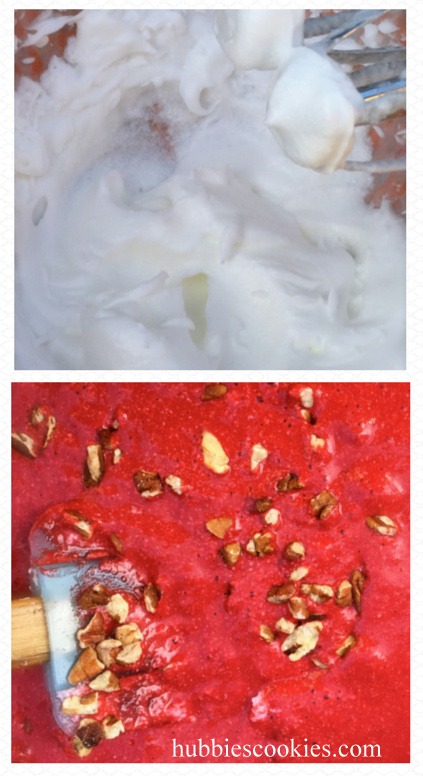 I never-ever seem to purchase buttermilk for drinking or my recipes. Grandma used up sour milk by making what she called "Sour Milk Waffles" or "Sour Milk Cocoa Cake." I didn't have any sour milk so I added vinegar to the milk to make it sour.  White or apple cider, it doesn't matter.  If you don't have vinegar you can use lemon juice.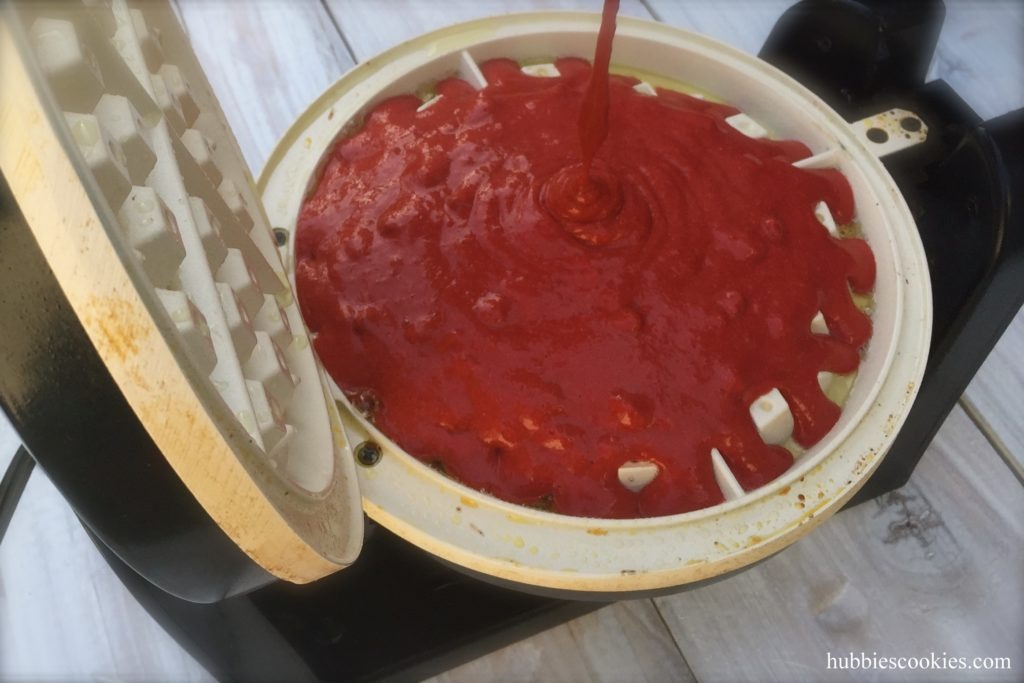 The key to making great waffles is to always separate the eggs and beat the egg whites until stiff peaks form.  I've tried to skip that step when I was lazy and they didn't turn out as good.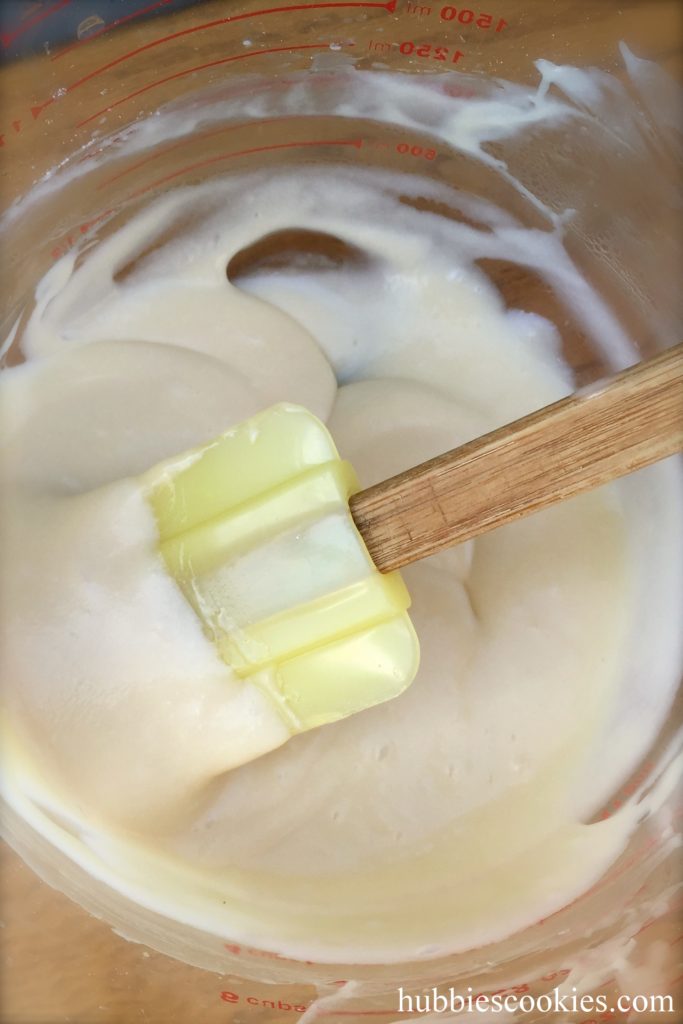 This yummy, creamy white chocolate cream cheese glaze really goes well with red velvet.  No syrup needed for these waffles.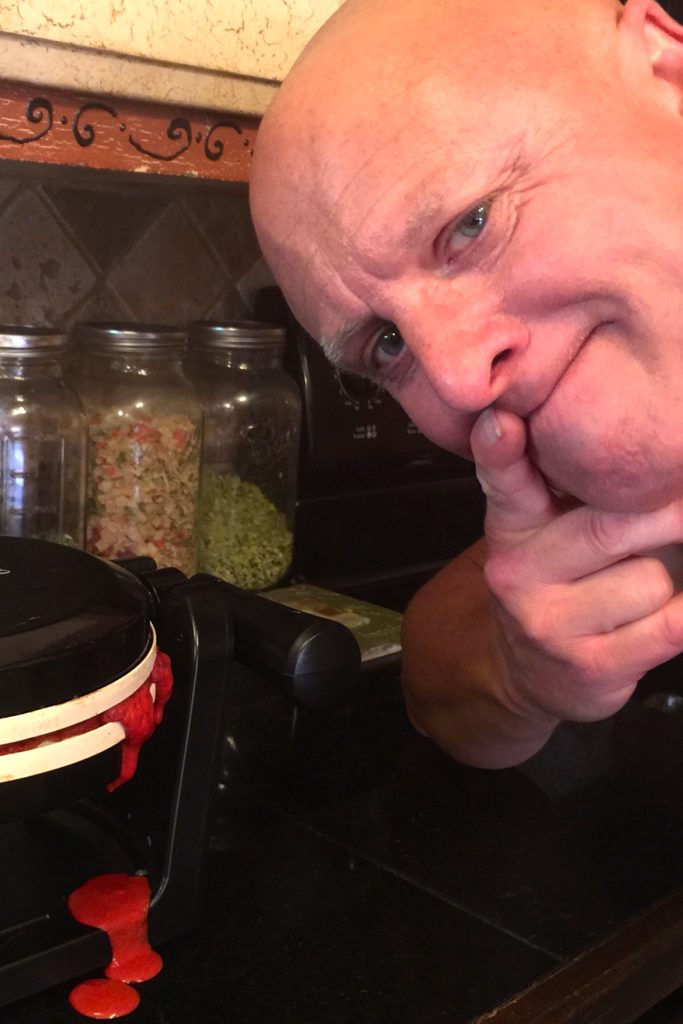 Don't overfill your waffle iron like hubby did on this second waffle. Happy Valentine's Day hunny bunny!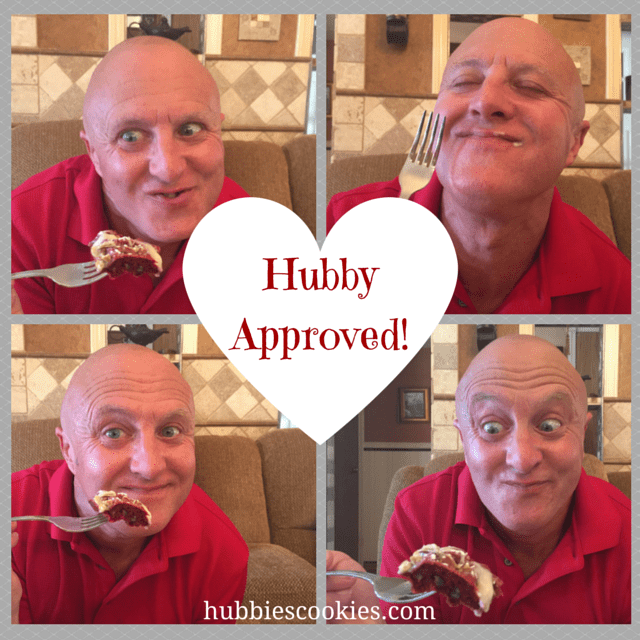 Red Velvet Pecan Waffles with White Chocolate, Cream Cheese Glaze
Tasty red velvet waffles - sweet and crisp with pecans and white chocolate cream cheese glaze. Hubby approved! These are yummy!
Ingredients
1½ cups milk
1 tbsp vinegar or lemon juice
2 eggs separated
2 tablespoons red food coloring
3 tablespoons unsalted melted butter (cooled)
1 teaspoon pure vanilla extract
1 tablespoon unsweetened cooca powder
3 tablespoons sugar
1 teaspoon baking soda
1 teaspoon salt
1 tablespoon baking powder
1¾ cups flour
1 cup chopped pecans, separated


White Chocolate Cream Cheese Glaze

¾ cup white chocolate chips or 6 ounces of white chocolate
½ package (4 ounces) cream cheese, room temperature
½ cup powdered sugar
⅛ teaspoon of salt
½ teaspoon pure vanilla extract
3 tablespoons milk, more if needed. (I used 4)
Instructions
Wash hands. Preheat waffle iron. In a large bowl whisk together the milk and vinegar or lemon juice, stir and let stand for 5 minutes. Use hand mixer on low to beat egg yolks into the soured milk, then add the butter, red food coloring, vanilla, cocoa, sugar, baking soda, baking powder and salt; mix well. Add in flour and beat well. In a separate bowl beat egg whites until stiff peaks form. Fold in egg whites into batter without over mixing. Add ½ cup pecans; stir gently. Pour batter into greased waffle iron. Cook according to your waffle iron's directions. Normally, waffles are done when they stop steaming.


White Chocolate Cream Cheese Glaze Directions

Melt white chocolate for a 2-3 minutes in microwave, stir until smooth. Use hand mixer on low to beat together the white chocolate and cream cheese, add in salt, milk and vanilla; beat on low until blended. Gradually add in powdered sugar beat well. Add more milk if needed to reach desired consistency.


Top waffles with a dusting of powdered sugar and maybe a little butter (optional); Drizzle white chocolate cream cheese glaze and add chopped pecans. Enjoy!
Notes
Makes 3 - 6 inch Belgium waffles.