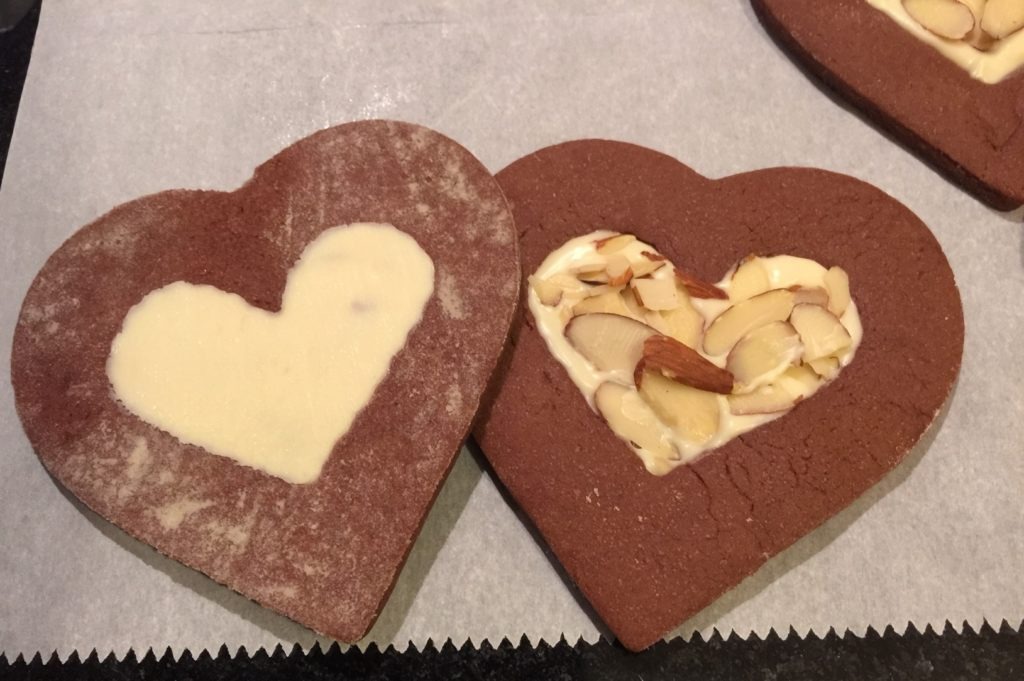 It's another "cheat-day-bake-day" and I'm staying in the Valentine theme. I was craving some white chocolate almond bark which I like better than chocolate.  Hubby loves chocolate, so, we'll combine chocolate cutout cookies with melted white chocolate chips and sliced almonds.  They taste great and their heart-shaped.  The chocolate cookie is not overly sweet to combat the rich sweetness of the white chocolate almond bark.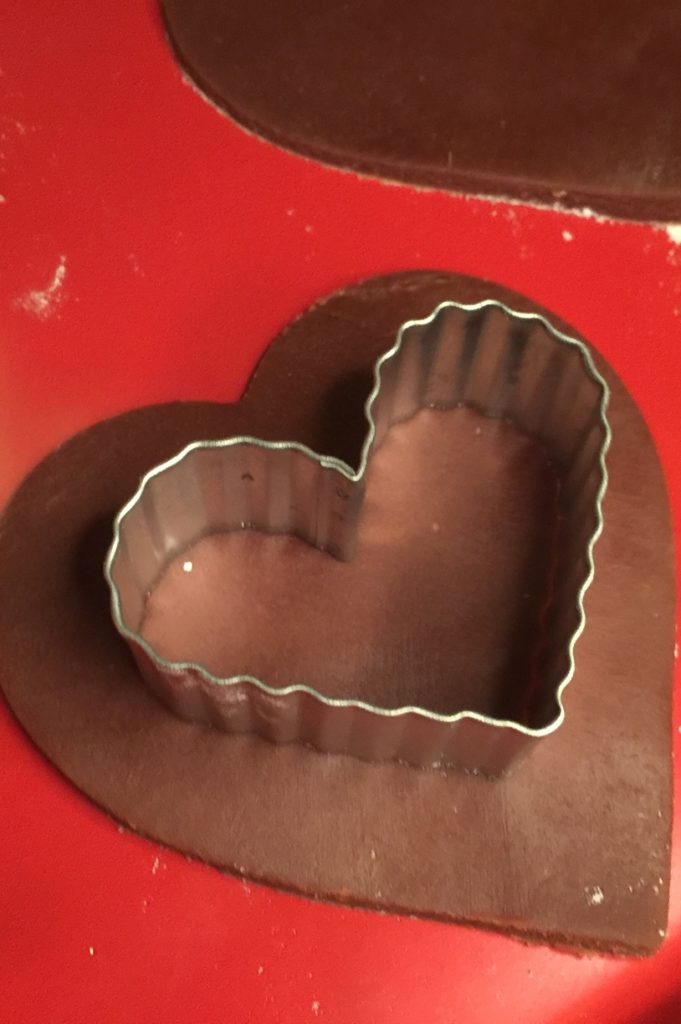 I cut out the centers of the heart on the cookie sheet so that it would better keep it's shape. If you get flour on top of your dough, just gently rub it into the cookie dough a bit.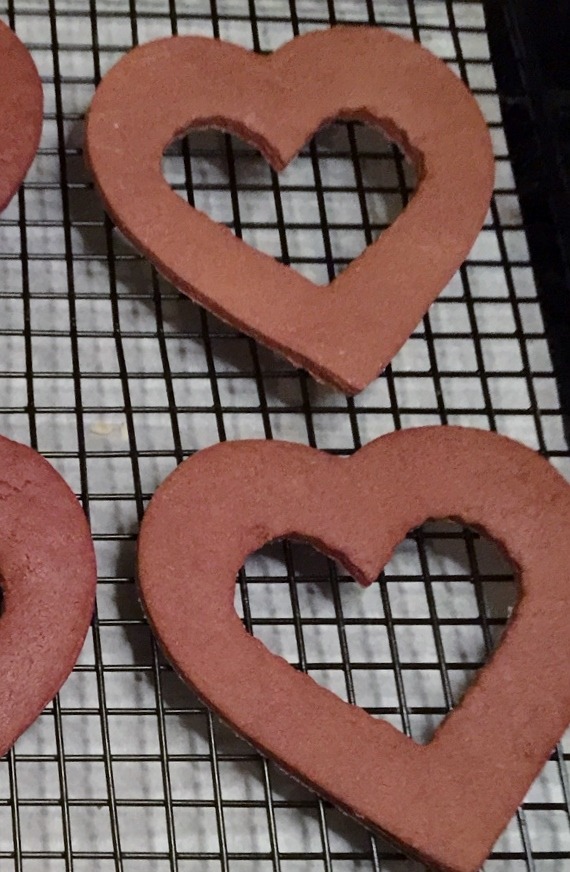 Spoon in the melted white chocolate chips, then top with sliced almonds.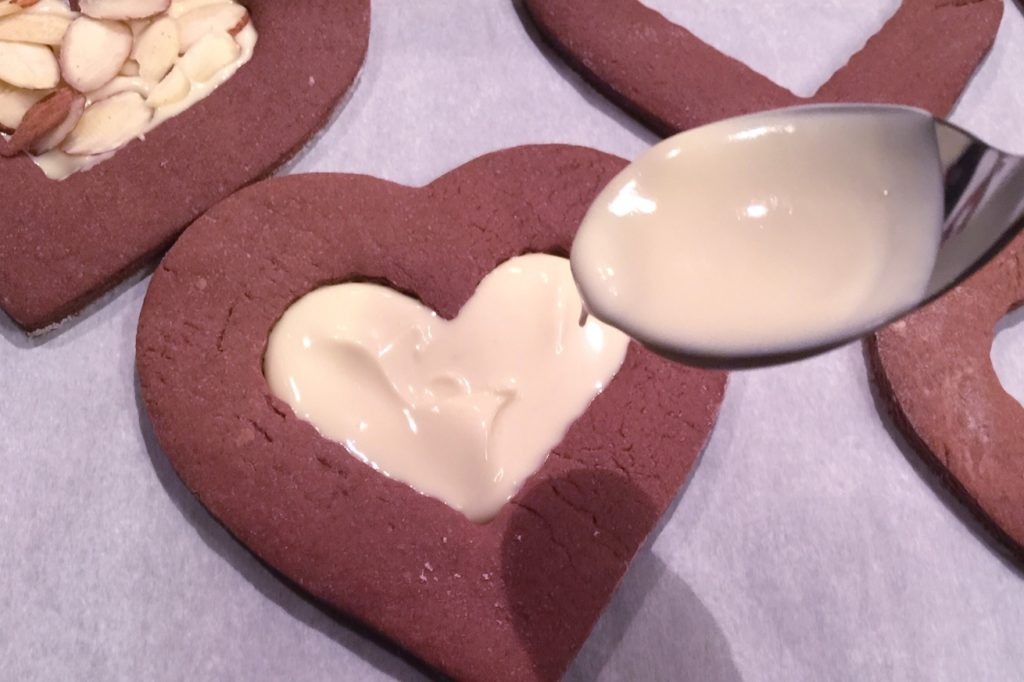 Hubby approved! They were made with love and were really good.  Hubby took some to work.  We're out. 🙁 , will have to make more sometime soon.
Chocolate White Chocolate Almond Bark Cookies
Heart Shaped Chocolate cutout cookies with heart shaped white chocolate almond bark heart centers.
Ingredients
½ cup butter (softened)
¾ cup granulated sugar
1 egg
1½ teaspoon pure vanilla extract
¼ teaspoon almond extract
1½ cups flour
⅓ cup unsweetened cocoa powder
½ teaspoon baking powder
⅛ teaspoon salt


White Chocolate Almond Bark

1-12 ounce bag of white chocolate chips
1 cup sliced almonds
Instructions
Preheat oven to 325°. Cream butter, sugar, egg, vanilla in a large bowl until fluffy. In a separate bowl combine flour, cocoa, baking powder, and salt. Gradually add the dry ingredients to the creamed mixture and blend well. Divide dough into quarters; wrap tightly and chill for 3 hours. Roll out dough on lightly floured surface 1 quarter at a time, to ⅛ thickness. Use large heart shaped cookie cutter to cut out cookies; use a smaller heart to cut out center of cookies. Place cutouts on ungreased cookie sheet and bake for 8 to 10 minutes. Remove cookies from cookie sheet; cool on wire rack.


White Chocolate Almond Bark

Pour white chocolate chips in glass bowl; melt microwave for a few minutes and blend and until smooth. Place cooled cookies on wax or parchment paper lined cookie sheets. Spoon in melted white chocolate and top generously with sliced almonds. Refrigerate cookies for about 5 minutes until white chocolate is firm.
Notes
Makes 2 dozen cookies depending on size of cookie cutter.